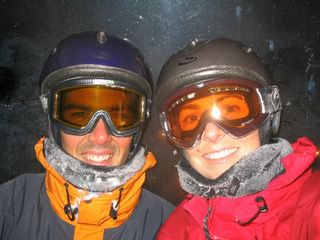 Marthijs and Anne on their recent night out clubbing in Japan!
Well you buggers, after organising your combined 30th birthday party all too far in advance, (don't ask me why I turned up at
the pub
last Saturday 19th), I now can't come along because I have Louise and Luke's wedding to attend! In fact I know I had less notice of their wedding than your birthday party. Therefore I have concluded that you guys are
too organised for my own good!
Yes I am being rude by taking the later invitation after committing to attend (twice) to your party - maybe there's a lesson for all of us... maybe not.
Hope you all have a great night - I'll make a toast to you both from the peninsula!