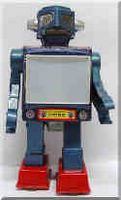 After the conclusion that Asahi gives Andrew a hang over, our post-work
search for the next Japanese beer
led us to
Robot
.
Melbourne''s laneways are dotted with atmospheric drinking holes.
I am pleased to have found myself in this great little bar knocking back several Sapporo stubbies and getting lost in the dim and funky atmosphere. This beer tastes great and, in all honesty, goes down all too easy. Hold on to your drinks though as in the dim light, the empties collecting staff might guess you're finished before you've begun!
If you really want this robot, complete with forward walking action and space scene scrolling across the lighted chest, he's
up for auction at Cromwell's
estimated at $120 to $140 - you can buy anything these days! Or you could just get slabs of Sapporo for about the same price.
A big thanks to my uncle Dave for the home brew donation too. I have added it to the
bulging liquor cabinet
at my house. I need to eliminate this stockpile before I leave for Japan. Anyone want to help me with this excess problem? It sounds like I am becoming an alcoholic.